PREP TIME: 60 MIN
SERVINGS: 6
Pesto Risotto with Peas
Happy Friday friends! 💚 It looks like our wonderful extended summer is officially coming to a close so bring on all the comfort food! This pesto risotto is perfect for a cozy weekend. It's hearty, warm, delicious and packed with nutrition – exactly what our bodies need as the weather gets changes. Buon appetito! – Enjoy your meal!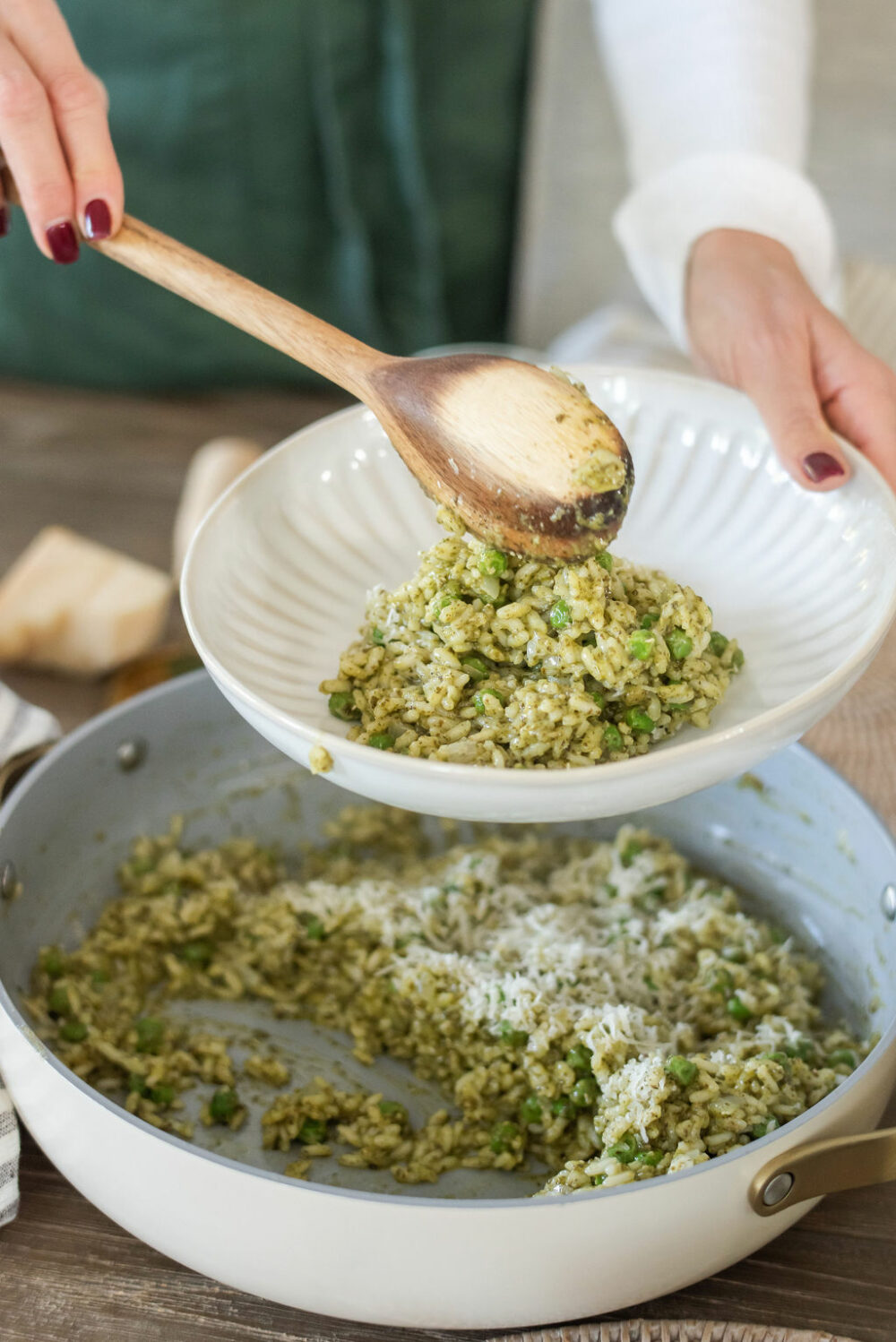 INGREDIENTS
1/2 pouch of Verily Hemp Seed Pesto
2 tbsp olive oil
2 tbsp butter, unsalted
1 small onion
1 1/2 cup carnaroli rice
1 cup dry white wine
5 cups (or more) chicken broth, low sodium (can use vegetable broth)
1 cup of frozen peas
Pecorino cheese
In a big pot, add the chicken broth and bring to a simmer.
In a large Dutch oven or pan, add the olive oil and butter over medium heat. When the butter has melted and is hot add the onion and stir. Cook for about 5 minutes, stirring occasionally, until the onion is soft and translucent.
Add the risotto to the pan, stir so that the rice is coated in the oil mixture and cook for a couple of minutes, until all the oil is absorbed by the rice.
Stir in the wine, making sure to scrape any bits from the bottom of the pan if necessary. Cook and stir until most of the wine is absorbed by the rice.
Stir in a ladle of broth at a time. Cook until most of the broth is absorbed by the rice, and repeat by adding a ladle of broth at a time. The whole process should take about 20 minutes until you run out of broth and the rice should be cooked through.
Once cooked, add the pesto and the peas to the pan. Stir and season with salt and pepper as needed. Add Pecorino Romano cheese.