PREP TIME: 40 min
SERVINGS: 5-6
Mediterranean Chickpea Stew
Hello spring!! 🌷
We love the change of season🌱- it's such an inspiring time to eat, think, and do all things that feel and are good for you. Spring represents a season of growth, purpose, renewal, refresh, bright, healthy and light.
This is a great season to add more plants, and herbs to your diet. Even growing a few pots on your windowsill or deck is such a great way to test out your green thumb. And of course it's good for the planet, and good for you.
Being a plant-based brand, we love to encourage and inspire you to eat more plants. There are so many important reasons from your health, to budget, and planet. Eating more plant-proteins like lentils and chickpeas are a great place to start!
So while the temps are still cool as we transition over to warmer days, let this coconut rose chickpea stew be like a big, healthy hug. It's SO good!🌱
By Karlene Karst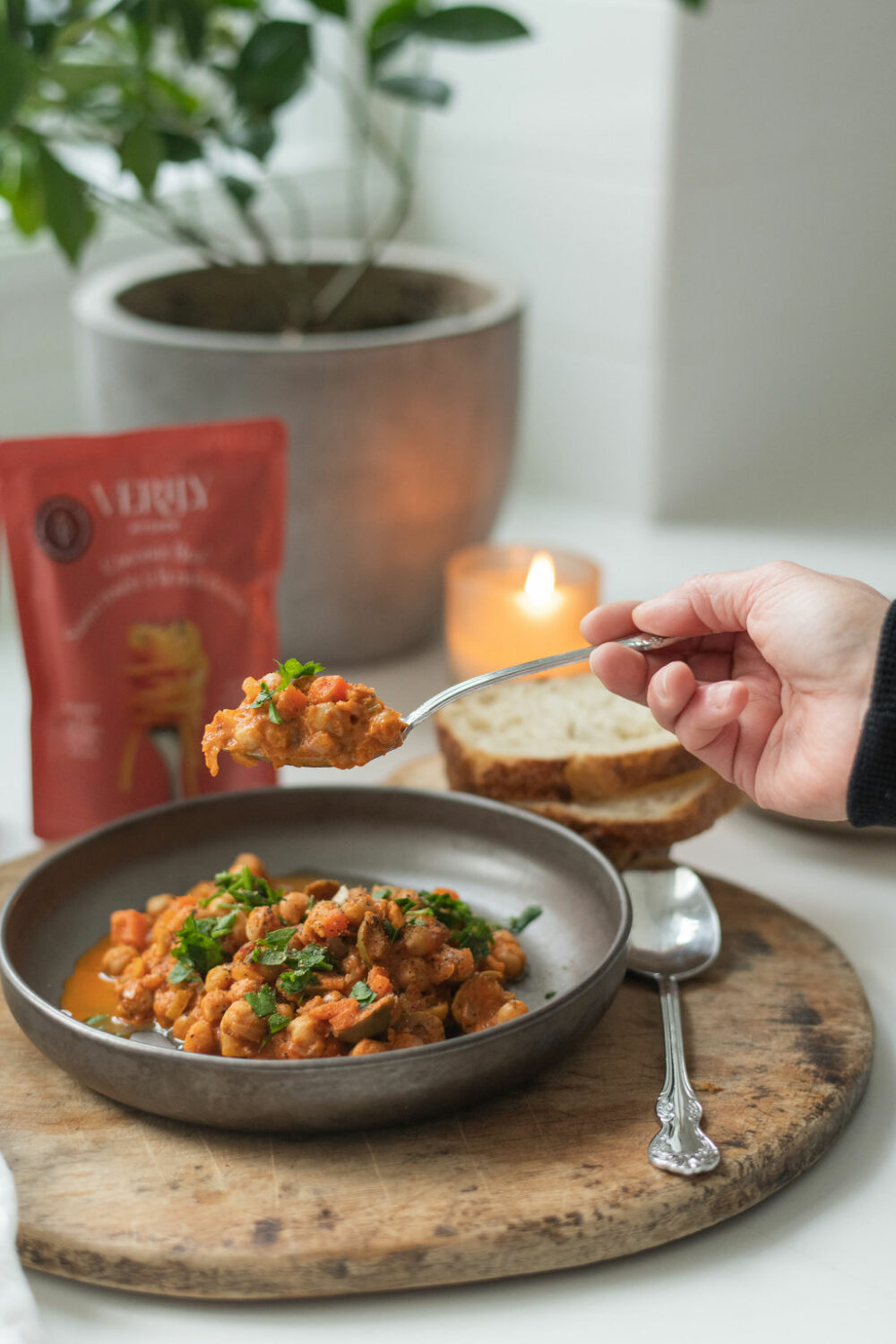 INGREDIENTS
4 cloves garlic, finely chopped
1 1/2 tsp salt, divided
1/3 cup freshly squeezed lemon juice
2 tsp ground cumin
2 tsp ground paprika
1 tsp fresh ground pepper
2 (15-oz) can chickpeas, drained and rinsed
1 tbsp extra virgin olive oil
1 large yellow onion, chopped
2 carrots, finely chopped
2 celery stalks, finely chopped
2 (250ml) pouches of Verily Coconut Rosé sauce
1/2 cup pitted Castelvetrano olives
1/4 cup chopped flat leaf parsley
In a medium bowl whisk together the garlic, 1 teaspoon of salt, lemon juice, cumin, paprika, and pepper. Add chickpeas and coat to marinade. Cover bowl and place in the refrigerator for at least 30 minutes or up to 4 hours.
Heat oil in a large skillet over medium-high heat. Cook onions, stirring occasionally until golden brown, about 6 to 8 minutes. Stir in carrots and celery and cook for another 6 to 8 minutes.
Using a slotted spoon, transfer the chickpeas to the pan, reserving the marinade. Cook chickpeas, stirring occasionally, about 4 to 5 minutes.
Add in the 2 pouches of Verily Coconut Rosé sauce, olives, reserved marinade and remaining salt. Reduce heat to medium. Cook, stirring occasionally for about 7 to 9 minutes. Garnish with chopped parsley and a side of Jasmine rice or sourdough toast.