PREP TIME: 60 MIN
SERVINGS: 6
Tomato Lentil Soup
Start your week off on a plant-rich healthy note featuring our Coconut rose lentil soup!!! It's really like a hug in a bowl!! The grounding spices, hearty nourishing lentils and savoury veg make this soup the coziest most comforting, easy and delicious week-night dinner!
5 years ago I started cooking one plant-based meal per week for my family. I find soups, pastas, and curries to be the easiest way to incorporate more plant proteins and veg into our diet. Before you know it, plants become part of your weekly menu rotation!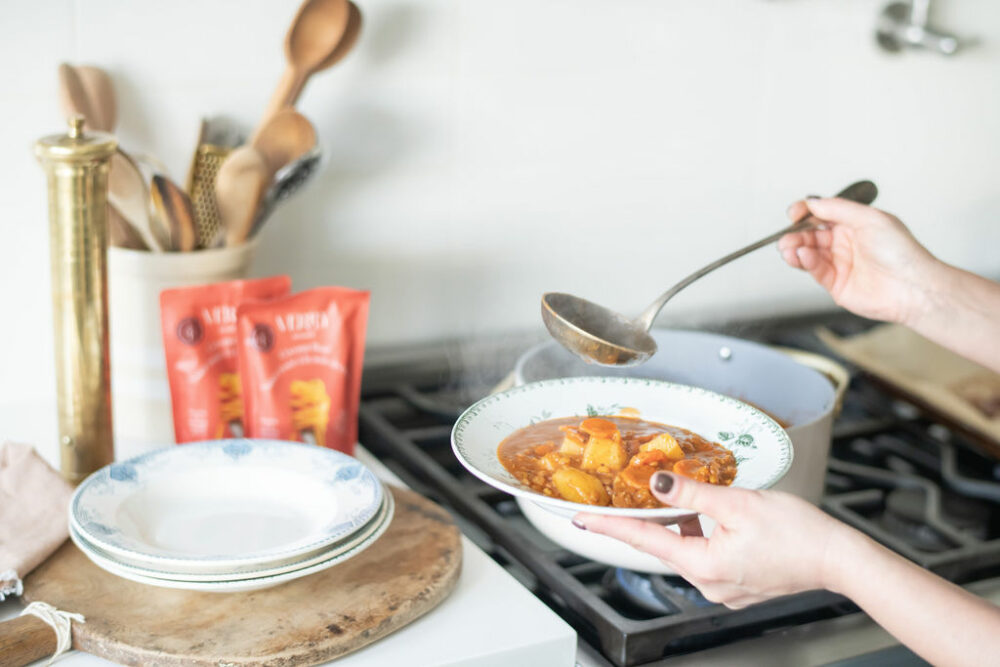 INGREDIENTS
2 tbsp olive oil
1 yellow onion, diced
2 garlic cloves, minced
3 carrots, sliced
1 large Russet ptoato, 1/2 inch cubes
2 tbsp tomato paste
2 pouches of Verily Coconut Rosé
1 cup brown lentils
1/2 tsp paprika
1/2 tsp dried basil
1/2 tsp dried oregano
1/4 tsp freshly cracked black pepper
4 cups vegetable broth
2 tbsp tamari
Heat olive oil in a large heavy bottom pot over medium heat. Add the onion, garlic, carrots, sauté until the onions are soft.
Add the tomato paste and continue to sauté for 2 to 3 minutes or until the tomato paste begins to coat the bottom of the pot.
Add the cubed potato, coconut rose sauce, lentils, paprika, basil, oregano, pepper and vegetable broth to the pot. Stir to combine.
Cover with a lid and allow soup to come to a boil. Once boiling,turn the heat down to low and let the soup simmer for about 40 minutes or until the lentils are super tender and have begun to break down slightly (this helps thicken the soup).
Add the tamari sauce to the soup, then give it a taste and adjust the seasoning as desired.