PREP TIME: 50 MIN
SERVINGS: 4-6
Tuscan-Style Chicken
If you're looking for the perfect comfort meal, this Tuscan style Chicken may just hit the spot for you! The sauce is so simple yet super flavourful. It's bright yet creamy as we utilize We love serving it with crusty bread, or you can also serve it over rice or pasta.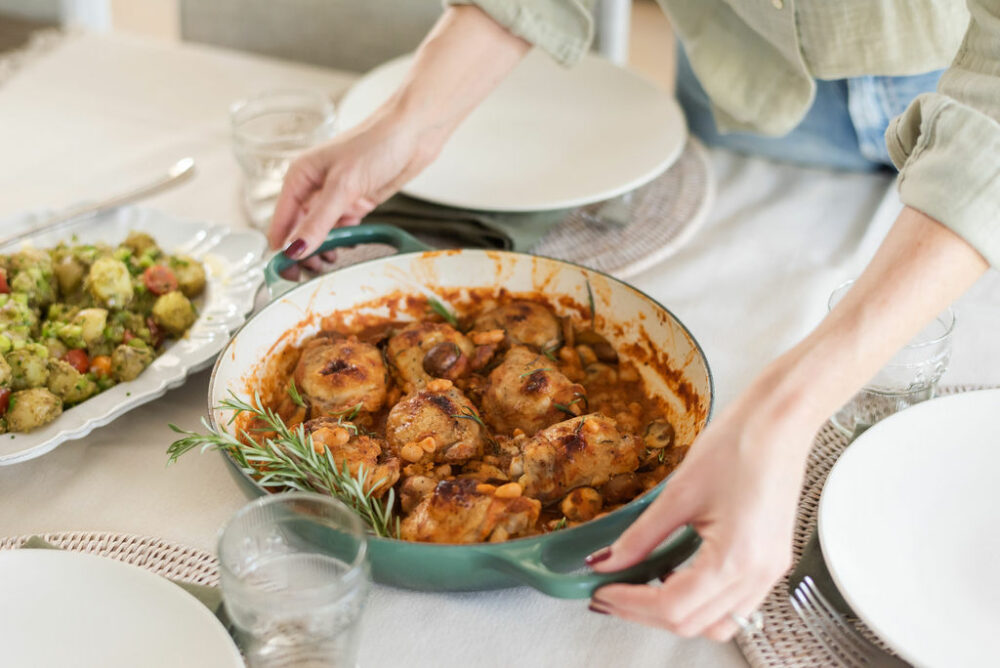 INGREDIENTS
1 pouch of Verily Coconut Rosé
8 chicken thighs, bone in and skin on
2 tbsp extra virgin olive oil
a handful of fresh herbs (parsley, thyme and/or rosemary)
1 can of cannellini beans, drained and rinsed
2 cups of crimini mushrooms, sliced
2 cups of chicken broth
salt and pepper
Preheat the oven to 425F. Liberally salt and pepper the chicken and add it to a baking dish (lined with parchment paper). Add 1 cup of chicken stock and bake for 20 minutes, then flip and bake for 20 more minutes. Flip again for 10 more minutes. Broil for 4-5 minutes if needed.
While the chicken is in the oven, heat the olive oil in a small pan. Add mushrooms, salt and cook until mushrooms are tender, 10 minutes.
Add Verily Coconut Rosé and 1 remaining cup of chicken broth. Bring to a boil and simmer for about 5 minutes. Add the beans and 2 tablespoon of chopped parsley or herb of your choice. Cook for a few more minutes. Once the chicken is cooked through transfer it to the pan into the sauce. Stir and let it rest for a few minutes. Sprinkle with herbs and cracked pepper.
Serve hot with fresh bread or over rice and enjoy!