PREP TIME: 30 MIN
SERVINGS: 4-5
Caramelized Leek Pasta with Alfredo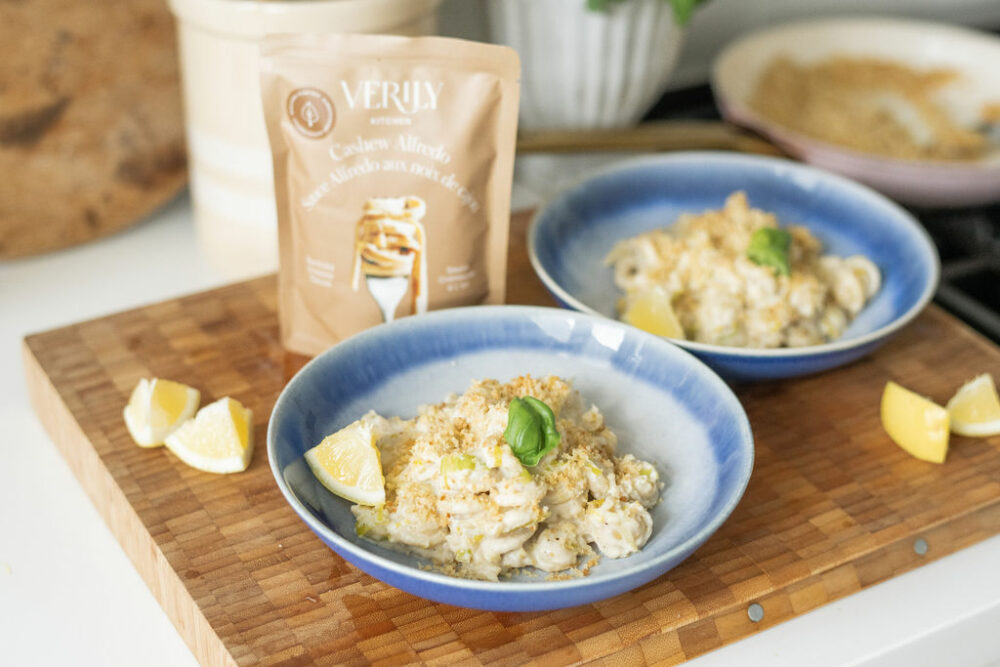 INGREDIENTS
4 medium leeks, white and light green parts only
1 tbsp butter
1 tbsp olive oil
Salt and Pepper, to taste
1 pack of Verily Cashew Alfredo
16 oz lumache/conchigilie pasta
1 large lemon
1 cup panko
2 tbsp olive oil
Parmesan cheese
Fresh basil
Over medium heat melt butter and olive oil, sauté leeks. Season with salt and pepper. Cook the leeks until tender and golden stirring often.
Stir in the cashew alfredo sauce and simmer for a few minutes until slightly thickened. Adjust seasoning.
Make the pasta according to package directions. Reserve 1/4 cup of pasta water and use if needed with the leek sauce.
In a medium bowl, zest half of the lemon. Halve the lemon and juice half into a small bowl. Cut the remaining half of lemon into wedges.
Warm 1 tablespoon of oil over medium heat. Add garlic and cook until golden around the edges turning it a few times for 2 to 3 minutes. Discard garlic. Stir in panko and a generous pinch of salt and the rest of the oil if it seems dry. Cook stirring constantly until the panko turns golden for about 2 to 4 minutes. Turn off the heat and continue to stir until the panko is browned to your liking. Transfer to the bowl with the lemon zest and stir to combine.
Transfer the pasta directly into the sauce with a slotted spoon, and mix until pasta is coated. Stir in the lemon juice and parmesan. Loosen the sauce as needed. Divide the pasta among bowls and top with panko and basil. Serve immediately with lemon wedges for squeezing.