PREP TIME: 20 MIN
SERVINGS: 4-5
Tuna and Capers Rosé Pasta
There's just something so delicious and special about Verily combined with fish and seafood! I've even noticed that most the recipes you guys are making at home feature some kind of fish- and we are LOVING it! 🇮🇹🍅🍝🌱💃🧑‍🍳🥳
Today we are sharing an incredible recipe from the Verily test kitchen, ty Glori for this delicious and healthy idea using canned Italian tuna, capers + Coconut Rose. While we were making this my husband came into the kitchen to find out what's cooking, lol, dished himself a bowl and declared it one of the best pastas he's ever eaten (umm that's a huge compliment).
I think I have your weekday dinner all sorted out- and best part- it will be ready in 20 min.
Ps -Pro Tip- transfer cooked pasta right from the water into the sauce. It allows some of that starchy pasta water to cling to the sauce creating an even silkier more luxurious rose! Yummm!!!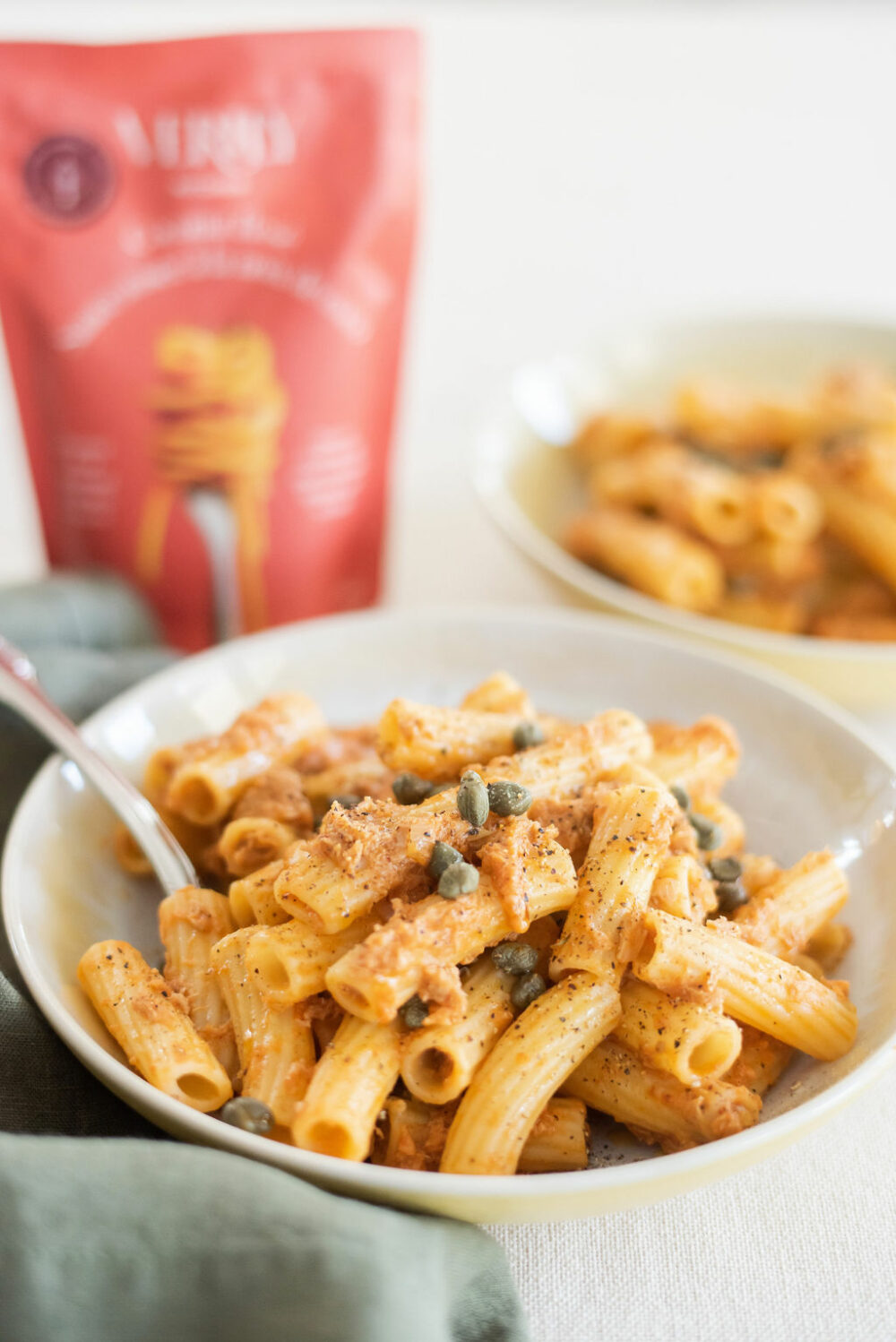 INGREDIENTS
2 tbsp olive oil
1 small onion
1/4 tsp red pepper flakes
1/2 cup capers, drained
fresh parsley, chopped
2 160gr cans of tuna in olive oil (Rio Mare), drained
1 pouch of Verily Coconut Rosé
sea salt and freshly ground pepper to taste
500 gr of short pasta
In a large skillet over medium heat, add 2 tablespoon oil. When oil is hot add the onions and cook until they begin to soften about 5 minute. Add the red pepper flakes and the capers and cook for 1 more minute.
Add the tuna and the Verily Coconut Rosé sauce and cook for a couple of minutes.
Cook the pasta as directed on package. When it's al Dente transfer with ladle to the sauce. Enjoy!